BACK TO HOME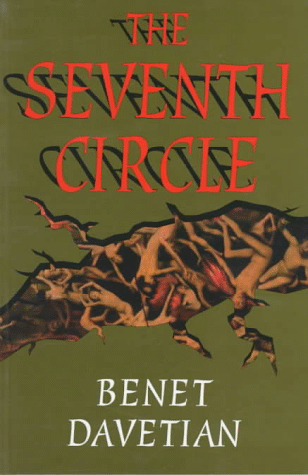 Available at www.amazon.com
Winner of the Canadian Richler Parizeau Prize for the Best Book of 1996.
Finalist Hugh McLelland Fiction Prize of Quebec (QSPELL), 1996
Complete text of the book: The Seventh Circle
Reviews and other information: http://www.google.com
The Atlantic:
"Impressed with the simplicity and lucidity."
The International Court of Justice in the Hague:
'The author is to be commended for his accomplishment...'
The Montreal Gazette:
World's a stage for fine storyteller. Benet Davetian merits acclaim
by Carol M. Davison
Saturday, July 6, 1996- Once in a rare while, you encounter a mesmerizing writer who makes the art of storytelling look effortless. Benet Davetian's latest collection of stories, The Seventh Circle, marks the first time in the year and a half I've written this column that I've met with such a writer in the English Quebec scene.
Davetian, a Montrealer who has published two earlier works, is a writer worthy of both national andinternational reputation. In eight exquisitely crafted tales set in Rwanda, Bosnia, Turkey, Russia, Paris, Somalia and Quebec, he offers an international pot-pourri of tales that transcend national boundaries while focusing on themes of political persecution, human suffering and displacement.
The Seventh Circle takes its title from Canto 16 of Dante's Inferno, where, after arriving at the seventh circle of hell, inhabited by those who have committed violent acts, the poet is invoked by three Florentines to recount their tales to other men upon his return to earth. By way of this title and statements regarding Alexander Solzhenitsyn, Davetian outlines the nature of his narrative voice. Essentially, he yokes Dante's role as chronicler with that of Solzhenitsyn's role as witness (the Nobel Prize-winning Russian author is the focus of a story here, a clever bio-fictional account of his time in prison in 1953 and forced exile in 1973).
Davetian is also an expert in narrative pacing who, like Alice Munro and Mavis Gallant, is not afraid to take the time necessary to tell a story. Another forte is Davetian's total humility, which allows for his and the reader's total immersion into his characters' experiences. In this vein, Davetian clearly outranks many of his peers. As the writer-narrator in the story Kigali, Imana informs the Rwandan man he encounters in a Montreal shopping mall, most writers arerarely good listeners. They are usually "too busy writing".
Davetian's third noteworthy ability involves his treatment of the subject of political persecution. Even some accomplished writers are unable to treat this material in a sensitive way. Aware that the (sometimes graphic) description of any atrocity is often condemnation enough, Davetian never lapses into soapbox-style preaching.
I have read my share of Canadian writers who turn their attention to foreign countries with political problems and "exotic" cultures to lend their books flavor and relevance. Nine times out of 10, this strategy backfires as the reader senses the artificial tenor of the work. In comparison, Davetian leaves strategy behind with regard to subject matter. Working from the idea that "the human heart is Lebanon," he writes about what he knows, tracing the disturbing yet very human and individual faces behind episodes of gruesome mass violence. As a result, Davetian produces one of the most authentic books I've read in a long time.
Finally, what is perhaps the most laudable aspect of the Seventh Circle is its subtle ability to probe the Jeykill-Hyde reality of human nature. Davetian's characters are forced to face the unexpected: a Serbian sniper confronts an old woman who wants to be shot, an Armenian man raised as a Turk confronts his true identity, a Quebec woman discovers on referendum night that her boyfriend, a Lebanese immigrant to Quebec, voted yes, and a Rwandan couple face a shocking "Sophie's Choice" situation.
The Seventh Circle is a memorable, and eloquent book that should be a very strong contender for the QSPELL, a Governor-General's and the recently announced Prix Parizeau Award.
Canadian Fiction Magazine:
"One cannot stop reading once one has started."
The Mirror:
"A powerful work. Distinctly Davetian."